Note that there may be a slight delay to the podcast playing after pressing play while the file buffers.
Baptismal Stories (Isaiah 42:1-9, Matthew 3:13-17)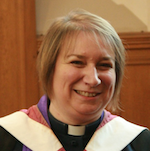 Rev MaryAnn R. Rennie, January 8, 2017
Part of the
Baptism of the Lord
series, preached at a
Morning Worship
service
About Rev MaryAnn R. Rennie:
MaryAnn was ordained in 1998, and prior to her call to Dunfermline Abbey was minister of Macainsh Parish Church in Lochgelly until 2002, and then St Anne's Parish Church in Corstorphine, Edinburgh from 2002 until 2012. She was inducted as the minister of Dunfermline Abbey in September 2012.
Isaiah 42:1-9
42:1 Behold my servant, whom I uphold,
my chosen, in whom my soul delights;
I have put my Spirit upon him;
he will bring forth justice to the nations.
2 He will not cry aloud or lift up his voice,
or make it heard in the street;
3 a bruised reed he will not break,
and a faintly burning wick he will not quench;
he will faithfully bring forth justice.
4 He will not grow faint or be discouraged
till he has established justice in the earth;
and the coastlands wait for his law.
5 Thus says God, the Lord,
who created the heavens and stretched them out,
who spread out the earth and what comes from it,
who gives breath to the people on it
and spirit to those who walk in it:
6 "I am the Lord; I have called you in righteousness;
I will take you by the hand and keep you;
I will give you as a covenant for the people,
a light for the nations,
7 to open the eyes that are blind,
to bring out the prisoners from the dungeon,
from the prison those who sit in darkness.
8 I am the Lord; that is my name;
my glory I give to no other,
nor my praise to carved idols.
9 Behold, the former things have come to pass,
and new things I now declare;
before they spring forth
I tell you of them." (
Matthew 3:13-17
13 Then Jesus came from Galilee to the Jordan to John, to be baptized by him. 14 John would have prevented him, saying, "I need to be baptized by you, and do you come to me?" 15 But Jesus answered him, "Let it be so now, for thus it is fitting for us to fulfill all righteousness." Then he consented. 16 And when Jesus was baptized, immediately he went up from the water, and behold, the heavens were opened to him, and he saw the Spirit of God descending like a dove and coming to rest on him; 17 and behold, a voice from heaven said, "This is my beloved Son, with whom I am well pleased." (ESV)