Note that there may be a slight delay to the podcast playing after pressing play while the file buffers.
The Interlude (Acts 1:6-14, John 17:1-11)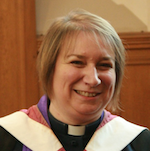 Rev MaryAnn R. Rennie, May 28, 2017
Part of the
Ascension Sunday
series, preached at a
Morning Worship
service
About Rev MaryAnn R. Rennie:
MaryAnn was ordained in 1998, and prior to her call to Dunfermline Abbey was minister of Macainsh Parish Church in Lochgelly until 2002, and then St Anne's Parish Church in Corstorphine, Edinburgh from 2002 until 2012. She was inducted as the minister of Dunfermline Abbey in September 2012.
Acts 1:6-14
6 So when they had come together, they asked him, "Lord, will you at this time restore the kingdom to Israel?" 7 He said to them, "It is not for you to know times or seasons that the Father has fixed by his own authority. 8 But you will receive power when the Holy Spirit has come upon you, and you will be my witnesses in Jerusalem and in all Judea and Samaria, and to the end of the earth." 9 And when he had said these things, as they were looking on, he was lifted up, and a cloud took him out of their sight. 10 And while they were gazing into heaven as he went, behold, two men stood by them in white robes, 11 and said, "Men of Galilee, why do you stand looking into heaven? This Jesus, who was taken up from you into heaven, will come in the same way as you saw him go into heaven."
12 Then they returned to Jerusalem from the mount called Olivet, which is near Jerusalem, a Sabbath day's journey away. 13 And when they had entered, they went up to the upper room, where they were staying, Peter and John and James and Andrew, Philip and Thomas, Bartholomew and Matthew, James the son of Alphaeus and Simon the Zealot and Judas the son of James. 14 All these with one accord were devoting themselves to prayer, together with the women and Mary the mother of Jesus, and his brothers. (
John 17:1-11
17:1 When Jesus had spoken these words, he lifted up his eyes to heaven, and said, "Father, the hour has come; glorify your Son that the Son may glorify you, 2 since you have given him authority over all flesh, to give eternal life to all whom you have given him. 3 And this is eternal life, that they know you the only true God, and Jesus Christ whom you have sent. 4 I glorified you on earth, having accomplished the work that you gave me to do. 5 And now, Father, glorify me in your own presence with the glory that I had with you before the world existed.
6 "I have manifested your name to the people whom you gave me out of the world. Yours they were, and you gave them to me, and they have kept your word. 7 Now they know that everything that you have given me is from you. 8 For I have given them the words that you gave me, and they have received them and have come to know in truth that I came from you; and they have believed that you sent me. 9 I am praying for them. I am not praying for the world but for those whom you have given me, for they are yours. 10 All mine are yours, and yours are mine, and I am glorified in them. 11 And I am no longer in the world, but they are in the world, and I am coming to you. Holy Father, keep them in your name, which you have given me, that they may be one, even as we are one. (ESV)