Note that there may be a slight delay to the podcast playing after pressing play while the file buffers.
Sign, Symbol, Sacrament (Psalm 46:1-100, Acts 2:37-42)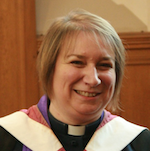 Rev MaryAnn R. Rennie, July 23, 2017
Part of the
The Sacraments
series, preached at a
Summer Morning Worship
service
About Rev MaryAnn R. Rennie:
MaryAnn was ordained in 1998, and prior to her call to Dunfermline Abbey was minister of Macainsh Parish Church in Lochgelly until 2002, and then St Anne's Parish Church in Corstorphine, Edinburgh from 2002 until 2012. She was inducted as the minister of Dunfermline Abbey in September 2012.
Psalm 46
To the choirmaster. Of the Sons of Korah. According to Alamoth. A Song.
46:1 God is our refuge and strength,
a very present help in trouble.
2 Therefore we will not fear though the earth gives way,
though the mountains be moved into the heart of the sea,
3 though its waters roar and foam,
though the mountains tremble at its swelling. Selah
4 There is a river whose streams make glad the city of God,
the holy habitation of the Most High.
5 God is in the midst of her; she shall not be moved;
God will help her when morning dawns.
6 The nations rage, the kingdoms totter;
he utters his voice, the earth melts.
7 The Lord of hosts is with us;
the God of Jacob is our fortress. Selah
8 Come, behold the works of the Lord,
how he has brought desolations on the earth.
9 He makes wars cease to the end of the earth;
he breaks the bow and shatters the spear;
he burns the chariots with fire.
10 "Be still, and know that I am God.
I will be exalted among the nations,
I will be exalted in the earth!"
11 The Lord of hosts is with us;
the God of Jacob is our fortress. Selah (
Acts 2:37-42
37 Now when they heard this they were cut to the heart, and said to Peter and the rest of the apostles, "Brothers, what shall we do?" 38 And Peter said to them, "Repent and be baptized every one of you in the name of Jesus Christ for the forgiveness of your sins, and you will receive the gift of the Holy Spirit. 39 For the promise is for you and for your children and for all who are far off, everyone whom the Lord our God calls to himself." 40 And with many other words he bore witness and continued to exhort them, saying, "Save yourselves from this crooked generation." 41 So those who received his word were baptized, and there were added that day about three thousand souls.
42 And they devoted themselves to the apostles' teaching and the fellowship, to the breaking of bread and the prayers. (ESV)