Note that there may be a slight delay to the podcast playing after pressing play while the file buffers.
The Voice of Actions (1 Samuel 21:1-9, Mark 14:12-25)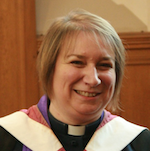 Rev MaryAnn R. Rennie, August 13, 2017
Part of the
The Sacraments
series, preached at a
Summer Morning Worship
service
About Rev MaryAnn R. Rennie:
MaryAnn was ordained in 1998, and prior to her call to Dunfermline Abbey was minister of Macainsh Parish Church in Lochgelly until 2002, and then St Anne's Parish Church in Corstorphine, Edinburgh from 2002 until 2012. She was inducted as the minister of Dunfermline Abbey in September 2012.
1 Samuel 21:1-9
21:1 Then David came to Nob to Ahimelech the priest. And Ahimelech came to meet David trembling and said to him, "Why are you alone, and no one with you?" 2 And David said to Ahimelech the priest, "The king has charged me with a matter and said to me, 'Let no one know anything of the matter about which I send you, and with which I have charged you.' I have made an appointment with the young men for such and such a place. 3 Now then, what do you have on hand? Give me five loaves of bread, or whatever is here." 4 And the priest answered David, "I have no common bread on hand, but there is holy bread—if the young men have kept themselves from women." 5 And David answered the priest, "Truly women have been kept from us as always when I go on an expedition. The vessels of the young men are holy even when it is an ordinary journey. How much more today will their vessels be holy?" 6 So the priest gave him the holy bread, for there was no bread there but the bread of the Presence, which is removed from before the Lord, to be replaced by hot bread on the day it is taken away.
7 Now a certain man of the servants of Saul was there that day, detained before the Lord. His name was Doeg the Edomite, the chief of Saul's herdsmen.
8 Then David said to Ahimelech, "Then have you not here a spear or a sword at hand? For I have brought neither my sword nor my weapons with me, because the king's business required haste." 9 And the priest said, "The sword of Goliath the Philistine, whom you struck down in the Valley of Elah, behold, it is here wrapped in a cloth behind the ephod. If you will take that, take it, for there is none but that here." And David said, "There is none like that; give it to me." (
Mark 14:12-25
12 And on the first day of Unleavened Bread, when they sacrificed the Passover lamb, his disciples said to him, "Where will you have us go and prepare for you to eat the Passover?" 13 And he sent two of his disciples and said to them, "Go into the city, and a man carrying a jar of water will meet you. Follow him, 14 and wherever he enters, say to the master of the house, 'The Teacher says, Where is my guest room, where I may eat the Passover with my disciples?' 15 And he will show you a large upper room furnished and ready; there prepare for us." 16 And the disciples set out and went to the city and found it just as he had told them, and they prepared the Passover.
17 And when it was evening, he came with the twelve. 18 And as they were reclining at table and eating, Jesus said, "Truly, I say to you, one of you will betray me, one who is eating with me." 19 They began to be sorrowful and to say to him one after another, "Is it I?" 20 He said to them, "It is one of the twelve, one who is dipping bread into the dish with me. 21 For the Son of Man goes as it is written of him, but woe to that man by whom the Son of Man is betrayed! It would have been better for that man if he had not been born."
22 And as they were eating, he took bread, and after blessing it broke it and gave it to them, and said, "Take; this is my body." 23 And he took a cup, and when he had given thanks he gave it to them, and they all drank of it. 24 And he said to them, "This is my blood of the covenant, which is poured out for many. 25 Truly, I say to you, I will not drink again of the fruit of the vine until that day when I drink it new in the kingdom of God." (ESV)