Note that there may be a slight delay to the podcast playing after pressing play while the file buffers.
Plain Old Ordinary (Habakkuk 1:1-4, Habakkuk 2:1-4, Luke 17:5-10)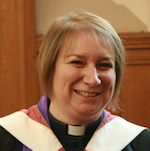 Rev MaryAnn R. Rennie, October 2, 2016
Part of the
Pentecost
series, preached at a
Morning Worship
service
About Rev MaryAnn R. Rennie:
MaryAnn was ordained in 1998, and prior to her call to Dunfermline Abbey was minister of Macainsh Parish Church in Lochgelly until 2002, and then St Anne's Parish Church in Corstorphine, Edinburgh from 2002 until 2012. She was inducted as the minister of Dunfermline Abbey in September 2012.
Habakkuk 1:1-4
1The burden which Habakkuk the prophet did see. 2O LORD, how long shall I cry, and thou wilt not hear! even cry out unto thee of violence, and thou wilt not save! 3Why dost thou shew me iniquity, and cause me to behold grievance? for spoiling and violence are before me: and there are that raise up strife and contention. 4Therefore the law is slacked, and judgment doth never go forth: for the wicked doth compass about the righteous; therefore wrong judgment proceedeth. (KJV)
Habakkuk 2:1-4
1I will stand upon my watch, and set me upon the tower, and will watch to see what he will say unto me, and what I shall answer when I am reproved. 2And the LORD answered me, and said, Write the vision, and make it plain upon tables, that he may run that readeth it. 3For the vision is yet for an appointed time, but at the end it shall speak, and not lie: though it tarry, wait for it; because it will surely come, it will not tarry. 4Behold, his soul which is lifted up is not upright in him: but the just shall live by his faith. (KJV)
Luke 17:5-10
5And the apostles said unto the Lord, Increase our faith. 6And the Lord said, If ye had faith as a grain of mustard seed, ye might say unto this sycamine tree, Be thou plucked up by the root, and be thou planted in the sea; and it should obey you. 7But which of you, having a servant plowing or feeding cattle, will say unto him by and by, when he is come from the field, Go and sit down to meat? 8And will not rather say unto him, Make ready wherewith I may sup, and gird thyself, and serve me, till I have eaten and drunken; and afterward thou shalt eat and drink? 9Doth he thank that servant because he did the things that were commanded him? I trow not. 10So likewise ye, when ye shall have done all those things which are commanded you, say, We are unprofitable servants: we have done that which was our duty to do. (KJV)