Note that there may be a slight delay to the podcast playing after pressing play while the file buffers.
The Importance of Strangers (2 Kings 5:1-3, 2 Kings 5:7-15, Luke 17:11-19)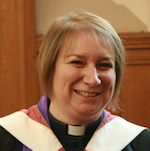 Rev MaryAnn R. Rennie, October 9, 2016
Part of the
Pentecost
series, preached at a
Morning Worship
service
About Rev MaryAnn R. Rennie:
MaryAnn was ordained in 1998, and prior to her call to Dunfermline Abbey was minister of Macainsh Parish Church in Lochgelly until 2002, and then St Anne's Parish Church in Corstorphine, Edinburgh from 2002 until 2012. She was inducted as the minister of Dunfermline Abbey in September 2012.
2 Kings 5:1-3
1Now Naaman, captain of the host of the king of Syria, was a great man with his master, and honourable, because by him the LORD had given deliverance unto Syria: he was also a mighty man in valour, but he was a leper. 2And the Syrians had gone out by companies, and had brought away captive out of the land of Israel a little maid; and she waited on Naaman's wife. 3And she said unto her mistress, Would God my lord were with the prophet that is in Samaria! for he would recover him of his leprosy. (KJV)
2 Kings 5:7-15
7And it came to pass, when the king of Israel had read the letter, that he rent his clothes, and said, Am I God, to kill and to make alive, that this man doth send unto me to recover a man of his leprosy? wherefore consider, I pray you, and see how he seeketh a quarrel against me. 8And it was so, when Elisha the man of God had heard that the king of Israel had rent his clothes, that he sent to the king, saying, Wherefore hast thou rent thy clothes? let him come now to me, and he shall know that there is a prophet in Israel. 9So Naaman came with his horses and with his chariot, and stood at the door of the house of Elisha. 10And Elisha sent a messenger unto him, saying, Go and wash in the Jordan seven times, and thy flesh shall come again to thee, and thou shalt be clean. 11But Naaman was wroth, and went away, and said, Behold, I thought, He will surely come out to me, and stand, and call on the name of the LORD his God, and strike his hand over the place, and recover the leper. 12Are not Abana and Pharpar, rivers of Damascus, better than all the waters of Israel? may I not wash in them, and be clean? So he turned and went away in a rage. 13And his servants came near, and spake unto him, and said, My father, if the prophet had bid thee do some great thing, wouldest thou not have done it? how much rather then, when he saith to thee, Wash, and be clean? 14Then went he down, and dipped himself seven times in Jordan, according to the saying of the man of God: and his flesh came again like unto the flesh of a little child, and he was clean. 15And he returned to the man of God, he and all his company, and came, and stood before him: and he said, Behold, now I know that there is no God in all earth, but in Israel: now therefore, I pray thee, take a blessing of thy servant. (KJV)
Luke 17:11-19
11And it came to pass, as he went to Jerusalem, that he passed through the midst of Samaria and Galilee. 12And as he entered into a certain village, there met him ten men that were lepers, which stood afar off: 13And they lifted up their voices, and said, Jesus, Master, have mercy on us. 14And when he saw them, he said unto them, Go shew yourselves unto the priests. And it came to pass, that, as they went, they were cleansed. 15And one of them, when he saw that he was healed, turned back, and with a loud voice glorified God, 16And fell down on his face at his feet, giving him thanks: and he was a Samaritan. 17And Jesus answering said, Were there not ten cleansed? but where are the nine? 18There are not found that returned to give glory to God, save this stranger. 19And he said unto him, Arise, go thy way: thy faith hath made thee whole. (KJV)