Note that there may be a slight delay to the podcast playing after pressing play while the file buffers.
What to Pack? (Exodus 19:2-8, Matthew 9:35-10:8)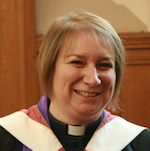 Rev MaryAnn R. Rennie, June 18, 2017
Part of the
Pentecost
series, preached at a
Morning Worship
service
About Rev MaryAnn R. Rennie:
MaryAnn was ordained in 1998, and prior to her call to Dunfermline Abbey was minister of Macainsh Parish Church in Lochgelly until 2002, and then St Anne's Parish Church in Corstorphine, Edinburgh from 2002 until 2012. She was inducted as the minister of Dunfermline Abbey in September 2012.
Exodus 19:2-8
2For they were departed from Rephidim, and were come to the desert of Sinai, and had pitched in the wilderness; and there Israel camped before the mount. 3And Moses went up unto God, and the LORD called unto him out of the mountain, saying, Thus shalt thou say to the house of Jacob, and tell the children of Israel; 4Ye have seen what I did unto the Egyptians, and how I bare you on eagles' wings, and brought you unto myself. 5Now therefore, if ye will obey my voice indeed, and keep my covenant, then ye shall be a peculiar treasure unto me above all people: for all the earth is mine: 6And ye shall be unto me a kingdom of priests, and an holy nation. These are the words which thou shalt speak unto the children of Israel. 7And Moses came and called for the elders of the people, and laid before their faces all these words which the LORD commanded him. 8And all the people answered together, and said, All that the LORD hath spoken we will do. And Moses returned the words of the people unto the LORD. (KJV)
Matthew 9:35-10:8
35And Jesus went about all the cities and villages, teaching in their synagogues, and preaching the gospel of the kingdom, and healing every sickness and every disease among the people. 36But when he saw the multitudes, he was moved with compassion on them, because they fainted, and were scattered abroad, as sheep having no shepherd. 37Then saith he unto his disciples, The harvest truly is plenteous, but the labourers are few; 38Pray ye therefore the Lord of the harvest, that he will send forth labourers into his harvest. 10:1 And when he had called unto him his twelve disciples, he gave them power against unclean spirits, to cast them out, and to heal all manner of sickness and all manner of disease. 2Now the names of the twelve apostles are these; The first, Simon, who is called Peter, and Andrew his brother; James the son of Zebedee, and John his brother; 3Philip, and Bartholomew; Thomas, and Matthew the publican; James the son of Alphaeus, and Lebbaeus, whose surname was Thaddaeus; 4Simon the Canaanite, and Judas Iscariot, who also betrayed him. 5These twelve Jesus sent forth, and commanded them, saying, Go not into the way of the Gentiles, and into any city of the Samaritans enter ye not: 6But go rather to the lost sheep of the house of Israel. 7And as ye go, preach, saying, The kingdom of heaven is at hand. 8Heal the sick, cleanse the lepers, raise the dead, cast out devils: freely ye have received, freely give. (KJV)