Note that there may be a slight delay to the podcast playing after pressing play while the file buffers.
Living in Baptism (Psalm 84:1-100, Romans 6:1-100)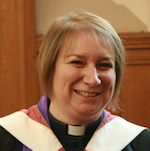 Rev MaryAnn R. Rennie, July 30, 2017
Part of the
The Sacraments
series, preached at a
Summer Morning Worship
service
About Rev MaryAnn R. Rennie:
MaryAnn was ordained in 1998, and prior to her call to Dunfermline Abbey was minister of Macainsh Parish Church in Lochgelly until 2002, and then St Anne's Parish Church in Corstorphine, Edinburgh from 2002 until 2012. She was inducted as the minister of Dunfermline Abbey in September 2012.
Psalm 84:1-100
1How amiable are thy tabernacles, O LORD of hosts! 2My soul longeth, yea, even fainteth for the courts of the LORD: my heart and my flesh crieth out for the living God. 3Yea, the sparrow hath found an house, and the swallow a nest for herself, where she may lay her young, even thine altars, O LORD of hosts, my King, and my God. 4Blessed are they that dwell in thy house: they will be still praising thee. Selah. 5Blessed is the man whose strength is in thee; in whose heart are the ways of them. 6Who passing through the valley of Baca make it a well; the rain also filleth the pools. 7They go from strength to strength, every one of them in Zion appeareth before God. 8O LORD God of hosts, hear my prayer: give ear, O God of Jacob. Selah. 9Behold, O God our shield, and look upon the face of thine anointed. 10For a day in thy courts is better than a thousand. I had rather be a doorkeeper in the house of my God, than to dwell in the tents of wickedness. 11For the LORD God is a sun and shield: the LORD will give grace and glory: no good thing will he withhold from them that walk uprightly. 12O LORD of hosts, blessed is the man that trusteth in thee. (KJV)
Romans 6:1-100
1What shall we say then? Shall we continue in sin, that grace may abound? 2God forbid. How shall we, that are dead to sin, live any longer therein? 3Know ye not, that so many of us as were baptized into Jesus Christ were baptized into his death? 4Therefore we are buried with him by baptism into death: that like as Christ was raised up from the dead by the glory of the Father, even so we also should walk in newness of life. 5For if we have been planted together in the likeness of his death, we shall be also in the likeness of his resurrection: 6Knowing this, that our old man is crucified with him, that the body of sin might be destroyed, that henceforth we should not serve sin. 7For he that is dead is freed from sin. 8Now if we be dead with Christ, we believe that we shall also live with him: 9Knowing that Christ being raised from the dead dieth no more; death hath no more dominion over him. 10For in that he died, he died unto sin once: but in that he liveth, he liveth unto God. 11Likewise reckon ye also yourselves to be dead indeed unto sin, but alive unto God through Jesus Christ our Lord. 12Let not sin therefore reign in your mortal body, that ye should obey it in the lusts thereof. 13Neither yield ye your members as instruments of unrighteousness unto sin: but yield yourselves unto God, as those that are alive from the dead, and your members as instruments of righteousness unto God. 14For sin shall not have dominion over you: for ye are not under the law, but under grace. 15What then? shall we sin, because we are not under the law, but under grace? God forbid. 16Know ye not, that to whom ye yield yourselves servants to obey, his servants ye are to whom ye obey; whether of sin unto death, or of obedience unto righteousness? 17But God be thanked, that ye were the servants of sin, but ye have obeyed from the heart that form of doctrine which was delivered you. 18Being then made free from sin, ye became the servants of righteousness. 19I speak after the manner of men because of the infirmity of your flesh: for as ye have yielded your members servants to uncleanness and to iniquity unto iniquity; even so now yield your members servants to righteousness unto holiness. 20For when ye were the servants of sin, ye were free from righteousness. 21What fruit had ye then in those things whereof ye are now ashamed? for the end of those things is death. 22But now being made free from sin, and become servants to God, ye have your fruit unto holiness, and the end everlasting life. 23For the wages of sin is death; but the gift of God is eternal life through Jesus Christ our Lord. (KJV)