Note that there may be a slight delay to the podcast playing after pressing play while the file buffers.
When Good Things Combine (Psalm 65:1-13, 1 Corinthians 11:17-34)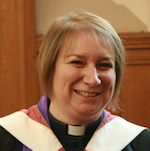 Rev MaryAnn R. Rennie, August 6, 2017
Part of the
The Sacraments
series, preached at a
Summer Morning Worship
service
About Rev MaryAnn R. Rennie:
MaryAnn was ordained in 1998, and prior to her call to Dunfermline Abbey was minister of Macainsh Parish Church in Lochgelly until 2002, and then St Anne's Parish Church in Corstorphine, Edinburgh from 2002 until 2012. She was inducted as the minister of Dunfermline Abbey in September 2012.
Psalm 65:1-13
1Praise waiteth for thee, O God, in Sion: and unto thee shall the vow be performed. 2O thou that hearest prayer, unto thee shall all flesh come. 3Iniquities prevail against me: as for our transgressions, thou shalt purge them away. 4Blessed is the man whom thou choosest, and causest to approach unto thee, that he may dwell in thy courts: we shall be satisfied with the goodness of thy house, even of thy holy temple. 5By terrible things in righteousness wilt thou answer us, O God of our salvation; who art the confidence of all the ends of the earth, and of them that are afar off upon the sea: 6Which by his strength setteth fast the mountains; being girded with power: 7Which stilleth the noise of the seas, the noise of their waves, and the tumult of the people. 8They also that dwell in the uttermost parts are afraid at thy tokens: thou makest the outgoings of the morning and evening to rejoice. 9Thou visitest the earth, and waterest it: thou greatly enrichest it with the river of God, which is full of water: thou preparest them corn, when thou hast so provided for it. 10Thou waterest the ridges thereof abundantly: thou settlest the furrows thereof: thou makest it soft with showers: thou blessest the springing thereof. 11Thou crownest the year with thy goodness; and thy paths drop fatness. 12They drop upon the pastures of the wilderness: and the little hills rejoice on every side. 13The pastures are clothed with flocks; the valleys also are covered over with corn; they shout for joy, they also sing. (KJV)
1 Corinthians 11:17-34
17Now in this that I declare unto you I praise you not, that ye come together not for the better, but for the worse. 18For first of all, when ye come together in the church, I hear that there be divisions among you; and I partly believe it. 19For there must be also heresies among you, that they which are approved may be made manifest among you. 20When ye come together therefore into one place, this is not to eat the Lord's supper. 21For in eating every one taketh before other his own supper: and one is hungry, and another is drunken. 22What? have ye not houses to eat and to drink in? or despise ye the church of God, and shame them that have not? What shall I say to you? shall I praise you in this? I praise you not. 23For I have received of the Lord that which also I delivered unto you, That the Lord Jesus the same night in which he was betrayed took bread: 24And when he had given thanks, he brake it, and said, Take, eat: this is my body, which is broken for you: this do in remembrance of me. 25After the same manner also he took the cup, when he had supped, saying, This cup is the new testament in my blood: this do ye, as oft as ye drink it, in remembrance of me. 26For as often as ye eat this bread, and drink this cup, ye do shew the Lord's death till he come. 27Wherefore whosoever shall eat this bread, and drink this cup of the Lord, unworthily, shall be guilty of the body and blood of the Lord. 28But let a man examine himself, and so let him eat of that bread, and drink of that cup. 29For he that eateth and drinketh unworthily, eateth and drinketh damnation to himself, not discerning the Lord's body. 30For this cause many are weak and sickly among you, and many sleep. 31For if we would judge ourselves, we should not be judged. 32But when we are judged, we are chastened of the Lord, that we should not be condemned with the world. 33Wherefore, my brethren, when ye come together to eat, tarry one for another. 34And if any man hunger, let him eat at home; that ye come not together unto condemnation. And the rest will I set in order when I come. (KJV)