Note that there may be a slight delay to the podcast playing after pressing play while the file buffers.
Sentinels and Socialites (Ezekiel 33:7-11, Matthew 18:15-20)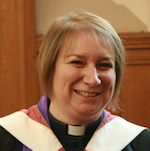 Rev MaryAnn R. Rennie, September 10, 2017
Part of the
Pentecost
series, preached at a
Communion
service
About Rev MaryAnn R. Rennie:
MaryAnn was ordained in 1998, and prior to her call to Dunfermline Abbey was minister of Macainsh Parish Church in Lochgelly until 2002, and then St Anne's Parish Church in Corstorphine, Edinburgh from 2002 until 2012. She was inducted as the minister of Dunfermline Abbey in September 2012.
Ezekiel 33:7-11
7So thou, O son of man, I have set thee a watchman unto the house of Israel; therefore thou shalt hear the word at my mouth, and warn them from me. 8When I say unto the wicked, O wicked man, thou shalt surely die; if thou dost not speak to warn the wicked from his way, that wicked man shall die in his iniquity; but his blood will I require at thine hand. 9Nevertheless, if thou warn the wicked of his way to turn from it; if he do not turn from his way, he shall die in his iniquity; but thou hast delivered thy soul. 10Therefore, O thou son of man, speak unto the house of Israel; Thus ye speak, saying, If our transgressions and our sins be upon us, and we pine away in them, how should we then live? 11Say unto them, As I live, saith the Lord GOD, I have no pleasure in the death of the wicked; but that the wicked turn from his way and live: turn ye, turn ye from your evil ways; for why will ye die, O house of Israel? (KJV)
Matthew 18:15-20
15Moreover if thy brother shall trespass against thee, go and tell him his fault between thee and him alone: if he shall hear thee, thou hast gained thy brother. 16But if he will not hear thee, then take with thee one or two more, that in the mouth of two or three witnesses every word may be established. 17And if he shall neglect to hear them, tell it unto the church: but if he neglect to hear the church, let him be unto thee as an heathen man and a publican. 18Verily I say unto you, Whatsoever ye shall bind on earth shall be bound in heaven: and whatsoever ye shall loose on earth shall be loosed in heaven. 19Again I say unto you, That if two of you shall agree on earth as touching any thing that they shall ask, it shall be done for them of my Father which is in heaven. 20For where two or three are gathered together in my name, there am I in the midst of them. (KJV)