Note that there may be a slight delay to the podcast playing after pressing play while the file buffers.
Tell her of her Baptism (Psalm 29:1-100, Luke 3:15-17, Luke 3:21-22)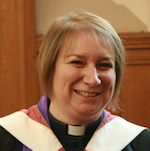 Rev MaryAnn R. Rennie, January 13, 2019
Part of the
Epiphany
series, preached at a
Morning Worship
service
About Rev MaryAnn R. Rennie:
MaryAnn was ordained in 1998, and prior to her call to Dunfermline Abbey was minister of Macainsh Parish Church in Lochgelly until 2002, and then St Anne's Parish Church in Corstorphine, Edinburgh from 2002 until 2012. She was inducted as the minister of Dunfermline Abbey in September 2012.
Psalm 29:1-100
1Give unto the LORD, O ye mighty, give unto the LORD glory and strength. 2Give unto the LORD the glory due unto his name; worship the LORD in the beauty of holiness. 3The voice of the LORD is upon the waters: the God of glory thundereth: the LORD is upon many waters. 4The voice of the LORD is powerful; the voice of the LORD is full of majesty. 5The voice of the LORD breaketh the cedars; yea, the LORD breaketh the cedars of Lebanon. 6He maketh them also to skip like a calf; Lebanon and Sirion like a young unicorn. 7The voice of the LORD divideth the flames of fire. 8The voice of the LORD shaketh the wilderness; the LORD shaketh the wilderness of Kadesh. 9The voice of the LORD maketh the hinds to calve, and discovereth the forests: and in his temple doth every one speak of his glory. 10The LORD sitteth upon the flood; yea, the LORD sitteth King for ever. 11The LORD will give strength unto his people; the LORD will bless his people with peace. (KJV)
Luke 3:15-17
15And as the people were in expectation, and all men mused in their hearts of John, whether he were the Christ, or not; 16John answered, saying unto them all, I indeed baptize you with water; but one mightier than I cometh, the latchet of whose shoes I am not worthy to unloose: he shall baptize you with the Holy Ghost and with fire: 17Whose fan is in his hand, and he will throughly purge his floor, and will gather the wheat into his garner; but the chaff he will burn with fire unquenchable. (KJV)
Luke 3:21-22
21Now when all the people were baptized, it came to pass, that Jesus also being baptized, and praying, the heaven was opened, 22And the Holy Ghost descended in a bodily shape like a dove upon him, and a voice came from heaven, which said, Thou art my beloved Son; in thee I am well pleased. (KJV)