Note that there may be a slight delay to the podcast playing after pressing play while the file buffers.
Yes! (Luke 1:46-55, John 1:6-8, John 1:19-28)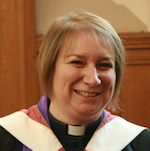 Rev MaryAnn R. Rennie, December 14, 2014
Part of the
Advent
series, preached at a
Morning Worship
service
The sermon preached at the 11.00 service on Sunday 14th December by the Minister, Rev MaryAnn R. Rennie is online now.
The original idea for this sermon belongs to someone else whose name has been lost in the mists of time, and so if you recognise your work please contact the Minister so you can be acknowledged. The original idea has been adapted and rewritten to suit a Scottish, Presbyterian congregation.
About Rev MaryAnn R. Rennie:
MaryAnn was ordained in 1998, and prior to her call to Dunfermline Abbey was minister of Macainsh Parish Church in Lochgelly until 2002, and then St Anne's Parish Church in Corstorphine, Edinburgh from 2002 until 2012. She was inducted as the minister of Dunfermline Abbey in September 2012.
Luke 1:46-55
46And Mary said, My soul doth magnify the Lord, 47And my spirit hath rejoiced in God my Saviour. 48For he hath regarded the low estate of his handmaiden: for, behold, from henceforth all generations shall call me blessed. 49For he that is mighty hath done to me great things; and holy is his name. 50And his mercy is on them that fear him from generation to generation. 51He hath shewed strength with his arm; he hath scattered the proud in the imagination of their hearts. 52He hath put down the mighty from their seats, and exalted them of low degree. 53He hath filled the hungry with good things; and the rich he hath sent empty away. 54He hath holpen his servant Israel, in remembrance of his mercy; 55As he spake to our fathers, to Abraham, and to his seed for ever. (KJV)
John 1:6-8
6There was a man sent from God, whose name was John. 7The same came for a witness, to bear witness of the Light, that all men through him might believe. 8He was not that Light, but was sent to bear witness of that Light. (KJV)
John 1:19-28
19And this is the record of John, when the Jews sent priests and Levites from Jerusalem to ask him, Who art thou? 20And he confessed, and denied not; but confessed, I am not the Christ. 21And they asked him, What then? Art thou Elias? And he saith, I am not. Art thou that prophet? And he answered, No. 22Then said they unto him, Who art thou? that we may give an answer to them that sent us. What sayest thou of thyself? 23He said, I am the voice of one crying in the wilderness, Make straight the way of the Lord, as said the prophet Esaias. 24And they which were sent were of the Pharisees. 25And they asked him, and said unto him, Why baptizest thou then, if thou be not that Christ, nor Elias, neither that prophet? 26John answered them, saying, I baptize with water: but there standeth one among you, whom ye know not; 27He it is, who coming after me is preferred before me, whose shoe's latchet I am not worthy to unloose. 28These things were done in Bethabara beyond Jordan, where John was baptizing. (KJV)