Note that there may be a slight delay to the podcast playing after pressing play while the file buffers.
What does peace look like? (Micah 4:1-5, John 15:9-17)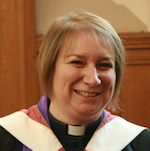 Rev MaryAnn R. Rennie, November 10, 2019
Part of the
Remembrance
series, preached at a
Remembrance
service
About Rev MaryAnn R. Rennie:
MaryAnn was ordained in 1998, and prior to her call to Dunfermline Abbey was minister of Macainsh Parish Church in Lochgelly until 2002, and then St Anne's Parish Church in Corstorphine, Edinburgh from 2002 until 2012. She was inducted as the minister of Dunfermline Abbey in September 2012.
Micah 4:1-5
1But in the last days it shall come to pass, that the mountain of the house of the LORD shall be established in the top of the mountains, and it shall be exalted above the hills; and people shall flow unto it. 2And many nations shall come, and say, Come, and let us go up to the mountain of the LORD, and to the house of the God of Jacob; and he will teach us of his ways, and we will walk in his paths: for the law shall go forth of Zion, and the word of the LORD from Jerusalem. 3And he shall judge among many people, and rebuke strong nations afar off; and they shall beat their swords into plowshares, and their spears into pruninghooks: nation shall not lift up a sword against nation, neither shall they learn war any more. 4But they shall sit every man under his vine and under his fig tree; and none shall make them afraid: for the mouth of the LORD of hosts hath spoken it. 5For all people will walk every one in the name of his god, and we will walk in the name of the LORD our God for ever and ever. (KJV)
John 15:9-17
9As the Father hath loved me, so have I loved you: continue ye in my love. 10If ye keep my commandments, ye shall abide in my love; even as I have kept my Father's commandments, and abide in his love. 11These things have I spoken unto you, that my joy might remain in you, and that your joy might be full. 12This is my commandment, That ye love one another, as I have loved you. 13Greater love hath no man than this, that a man lay down his life for his friends. 14Ye are my friends, if ye do whatsoever I command you. 15Henceforth I call you not servants; for the servant knoweth not what his lord doeth: but I have called you friends; for all things that I have heard of my Father I have made known unto you. 16Ye have not chosen me, but I have chosen you, and ordained you, that ye should go and bring forth fruit, and that your fruit should remain: that whatsoever ye shall ask of the Father in my name, he may give it you. 17These things I command you, that ye love one another. (KJV)