Note that there may be a slight delay to the podcast playing after pressing play while the file buffers.
Waiting for Baby (Isaiah 2:1-5, Matthew 24:36-44)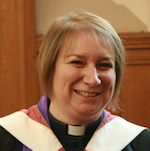 Rev MaryAnn R. Rennie, December 1, 2019
Part of the
Advent
series, preached at a
Sunday Morning
service
About Rev MaryAnn R. Rennie:
MaryAnn was ordained in 1998, and prior to her call to Dunfermline Abbey was minister of Macainsh Parish Church in Lochgelly until 2002, and then St Anne's Parish Church in Corstorphine, Edinburgh from 2002 until 2012. She was inducted as the minister of Dunfermline Abbey in September 2012.
Isaiah 2:1-5
1the word that Isaiah the son of Amoz saw concerning Judah and Jerusalem. 2And it shall come to pass in the last days, that the mountain of the LORD's house shall be established in the top of the mountains, and shall be exalted above the hills; and all nations shall flow unto it. 3And many people shall go and say, Come ye, and let us go up to the mountain of the LORD, to the house of the God of Jacob; and he will teach us of his ways, and we will walk in his paths: for out of Zion shall go forth the law, and the word of the LORD from Jerusalem. 4And he shall judge among the nations, and shall rebuke many people: and they shall beat their swords into plowshares, and their spears into pruninghooks: nation shall not lift up sword against nation, neither shall they learn war any more. 5O house of Jacob, come ye, and let us walk in the light of the LORD. (KJV)
Matthew 24:36-44
36But of that day and hour knoweth no man, no, not the angels of heaven, but my Father only. 37But as the days of Noe were, so shall also the coming of the Son of man be. 38For as in the days that were before the flood they were eating and drinking, marrying and giving in marriage, until the day that Noe entered into the ark, 39And knew not until the flood came, and took them all away; so shall also the coming of the Son of man be. 40Then shall two be in the field; the one shall be taken, and the other left. 41Two women shall be grinding at the mill; the one shall be taken, and the other left. 42Watch therefore: for ye know not what hour your Lord doth come. 43But know this, that if the goodman of the house had known in what watch the thief would come, he would have watched, and would not have suffered his house to be broken up. 44Therefore be ye also ready: for in such an hour as ye think not the Son of man cometh. (KJV)