Note that there may be a slight delay to the podcast playing after pressing play while the file buffers.
Strength to Serve (Isaiah 40:21-31, Mark 1:29-39)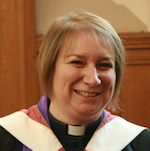 Rev MaryAnn R. Rennie, February 8, 2015
Part of the
Epiphany
series, preached at a
Morning Worship
service
About Rev MaryAnn R. Rennie:
MaryAnn was ordained in 1998, and prior to her call to Dunfermline Abbey was minister of Macainsh Parish Church in Lochgelly until 2002, and then St Anne's Parish Church in Corstorphine, Edinburgh from 2002 until 2012. She was inducted as the minister of Dunfermline Abbey in September 2012.
Isaiah 40:21-31
21Have ye not known? have ye not heard? hath it not been told you from the beginning? have ye not understood from the foundations of the earth? 22It is he that sitteth upon the circle of the earth, and the inhabitants thereof are as grasshoppers; that stretcheth out the heavens as a curtain, and spreadeth them out as a tent to dwell in: 23That bringeth the princes to nothing; he maketh the judges of the earth as vanity. 24Yea, they shall not be planted; yea, they shall not be sown: yea, their stock shall not take root in the earth: and he shall also blow upon them, and they shall wither, and the whirlwind shall take them away as stubble. 25To whom then will ye liken me, or shall I be equal? saith the Holy One. 26Lift up your eyes on high, and behold who hath created these things, that bringeth out their host by number: he calleth them all by names by the greatness of his might, for that he is strong in power; not one faileth. 27Why sayest thou, O Jacob, and speakest, O Israel, My way is hid from the LORD, and my judgment is passed over from my God? 28Hast thou not known? hast thou not heard, that the everlasting God, the LORD, the Creator of the ends of the earth, fainteth not, neither is weary? there is no searching of his understanding. 29He giveth power to the faint; and to them that have no might he increaseth strength. 30Even the youths shall faint and be weary, and the young men shall utterly fall: 31But they that wait upon the LORD shall renew their strength; they shall mount up with wings as eagles; they shall run, and not be weary; and they shall walk, and not faint. (KJV)
Mark 1:29-39
29And forthwith, when they were come out of the synagogue, they entered into the house of Simon and Andrew, with James and John. 30But Simon's wife's mother lay sick of a fever, and anon they tell him of her. 31And he came and took her by the hand, and lifted her up; and immediately the fever left her, and she ministered unto them. 32And at even, when the sun did set, they brought unto him all that were diseased, and them that were possessed with devils. 33And all the city was gathered together at the door. 34And he healed many that were sick of divers diseases, and cast out many devils; and suffered not the devils to speak, because they knew him. 35And in the morning, rising up a great while before day, he went out, and departed into a solitary place, and there prayed. 36And Simon and they that were with him followed after him. 37And when they had found him, they said unto him, All men seek for thee. 38And he said unto them, Let us go into the next towns, that I may preach there also: for therefore came I forth. 39And he preached in their synagogues throughout all Galilee, and cast out devils. (KJV)