Note that there may be a slight delay to the podcast playing after pressing play while the file buffers.
Name Calling (11am Service) (Genesis 17:1-7, Genesis 17:15-16, Mark 8:31-38)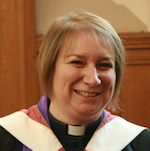 Rev MaryAnn R. Rennie, March 1, 2015
Part of the
Lent
series, preached at a
Morning Worship
service
The sermons preached at the 11am service on Sunday 1st March, preached by Rev MaryAnn R. Rennie. Note that due to the fact that there was a baptism at the 11am service, the sermon was slightly different from the one preached at the 9.30am service.
About Rev MaryAnn R. Rennie:
MaryAnn was ordained in 1998, and prior to her call to Dunfermline Abbey was minister of Macainsh Parish Church in Lochgelly until 2002, and then St Anne's Parish Church in Corstorphine, Edinburgh from 2002 until 2012. She was inducted as the minister of Dunfermline Abbey in September 2012.
Genesis 17:1-7
1And when Abram was ninety years old and nine, the LORD appeared to Abram, and said unto him, I am the Almighty God; walk before me, and be thou perfect. 2And I will make my covenant between me and thee, and will multiply thee exceedingly. 3And Abram fell on his face: and God talked with him, saying, 4As for me, behold, my covenant is with thee, and thou shalt be a father of many nations. 5Neither shall thy name any more be called Abram, but thy name shall be Abraham; for a father of many nations have I made thee. 6And I will make thee exceeding fruitful, and I will make nations of thee, and kings shall come out of thee. 7And I will establish my covenant between me and thee and thy seed after thee in their generations for an everlasting covenant, to be a God unto thee, and to thy seed after thee. (KJV)
Genesis 17:15-16
15And God said unto Abraham, As for Sarai thy wife, thou shalt not call her name Sarai, but Sarah shall her name be. 16And I will bless her, and give thee a son also of her: yea, I will bless her, and she shall be a mother of nations; kings of people shall be of her. (KJV)
Mark 8:31-38
31And he began to teach them, that the Son of man must suffer many things, and be rejected of the elders, and of the chief priests, and scribes, and be killed, and after three days rise again. 32And he spake that saying openly. And Peter took him, and began to rebuke him. 33But when he had turned about and looked on his disciples, he rebuked Peter, saying, Get thee behind me, Satan: for thou savourest not the things that be of God, but the things that be of men. 34And when he had called the people unto him with his disciples also, he said unto them, Whosoever will come after me, let him deny himself, and take up his cross, and follow me. 35For whosoever will save his life shall lose it; but whosoever shall lose his life for my sake and the gospel's, the same shall save it. 36For what shall it profit a man, if he shall gain the whole world, and lose his own soul? 37Or what shall a man give in exchange for his soul? 38Whosoever therefore shall be ashamed of me and of my words in this adulterous and sinful generation; of him also shall the Son of man be ashamed, when he cometh in the glory of his Father with the holy angels. (KJV)