Note that there may be a slight delay to the podcast playing after pressing play while the file buffers.
Save Us! (John 12:12-16, John 18:1-11, John 18:28-40, John 19:16-24, John 19:28-30)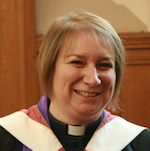 Rev MaryAnn R. Rennie, March 29, 2015
Part of the
Palm and Passion
series, preached at a
Morning Worship
service
About Rev MaryAnn R. Rennie:
MaryAnn was ordained in 1998, and prior to her call to Dunfermline Abbey was minister of Macainsh Parish Church in Lochgelly until 2002, and then St Anne's Parish Church in Corstorphine, Edinburgh from 2002 until 2012. She was inducted as the minister of Dunfermline Abbey in September 2012.
John 12:12-16
12On the next day much people that were come to the feast, when they heard that Jesus was coming to Jerusalem, 13Took branches of palm trees, and went forth to meet him, and cried, Hosanna: Blessed is the King of Israel that cometh in the name of the Lord. 14And Jesus, when he had found a young ass, sat thereon; as it is written, 15Fear not, daughter of Sion: behold, thy King cometh, sitting on an ass's colt. 16These things understood not his disciples at the first: but when Jesus was glorified, then remembered they that these things were written of him, and that they had done these things unto him. (KJV)
John 18:1-11
1When Jesus had spoken these words, he went forth with his disciples over the brook Cedron, where was a garden, into the which he entered, and his disciples. 2And Judas also, which betrayed him, knew the place: for Jesus ofttimes resorted thither with his disciples. 3Judas then, having received a band of men and officers from the chief priests and Pharisees, cometh thither with lanterns and torches and weapons. 4Jesus therefore, knowing all things that should come upon him, went forth, and said unto them, Whom seek ye? 5They answered him, Jesus of Nazareth. Jesus saith unto them, I am he. And Judas also, which betrayed him, stood with them. 6As soon then as he had said unto them, I am he, they went backward, and fell to the ground. 7Then asked he them again, Whom seek ye? And they said, Jesus of Nazareth. 8Jesus answered, I have told you that I am he: if therefore ye seek me, let these go their way: 9That the saying might be fulfilled, which he spake, Of them which thou gavest me have I lost none. 10Then Simon Peter having a sword drew it, and smote the high priest's servant, and cut off his right ear. The servant's name was Malchus. 11Then said Jesus unto Peter, Put up thy sword into the sheath: the cup which my Father hath given me, shall I not drink it? (KJV)
John 18:28-40
28Then led they Jesus from Caiaphas unto the hall of judgment: and it was early; and they themselves went not into the judgment hall, lest they should be defiled; but that they might eat the passover. 29Pilate then went out unto them, and said, What accusation bring ye against this man? 30They answered and said unto him, If he were not a malefactor, we would not have delivered him up unto thee. 31Then said Pilate unto them, Take ye him, and judge him according to your law. The Jews therefore said unto him, It is not lawful for us to put any man to death: 32That the saying of Jesus might be fulfilled, which he spake, signifying what death he should die. 33Then Pilate entered into the judgment hall again, and called Jesus, and said unto him, Art thou the King of the Jews? 34Jesus answered him, Sayest thou this thing of thyself, or did others tell it thee of me? 35Pilate answered, Am I a Jew? Thine own nation and the chief priests have delivered thee unto me: what hast thou done? 36Jesus answered, My kingdom is not of this world: if my kingdom were of this world, then would my servants fight, that I should not be delivered to the Jews: but now is my kingdom not from hence. 37Pilate therefore said unto him, Art thou a king then? Jesus answered, Thou sayest that I am a king. To this end was I born, and for this cause came I into the world, that I should bear witness unto the truth. Every one that is of the truth heareth my voice. 38Pilate saith unto him, What is truth? And when he had said this, he went out again unto the Jews, and saith unto them, I find in him no fault at all. 39But ye have a custom, that I should release unto you one at the passover: will ye therefore that I release unto you the King of the Jews? 40Then cried they all again, saying, Not this man, but Barabbas. Now Barabbas was a robber. (KJV)
John 19:16-24
16Then delivered he him therefore unto them to be crucified. And they took Jesus, and led him away. 17And he bearing his cross went forth into a place called the place of a skull, which is called in the Hebrew Golgotha: 18Where they crucified him, and two other with him, on either side one, and Jesus in the midst. 19And Pilate wrote a title, and put it on the cross. And the writing was, JESUS OF NAZARETH THE KING OF THE JEWS. 20This title then read many of the Jews: for the place where Jesus was crucified was nigh to the city: and it was written in Hebrew, and Greek, and Latin. 21Then said the chief priests of the Jews to Pilate, Write not, The King of the Jews; but that he said, I am King of the Jews. 22Pilate answered, What I have written I have written. 23Then the soldiers, when they had crucified Jesus, took his garments, and made four parts, to every soldier a part; and also his coat: now the coat was without seam, woven from the top throughout. 24They said therefore among themselves, Let us not rend it, but cast lots for it, whose it shall be: that the scripture might be fulfilled, which saith, They parted my raiment among them, and for my vesture they did cast lots. These things therefore the soldiers did. (KJV)
John 19:28-30
28After this, Jesus knowing that all things were now accomplished, that the scripture might be fulfilled, saith, I thirst. 29Now there was set a vessel full of vinegar: and they filled a spunge with vinegar, and put it upon hyssop, and put it to his mouth. 30When Jesus therefore had received the vinegar, he said, It is finished: and he bowed his head, and gave up the ghost. (KJV)