Note that there may be a slight delay to the podcast playing after pressing play while the file buffers.
An Unsatisfactory Ending (Acts 10:34-43, Mark 16:1-8)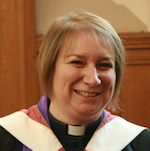 Rev MaryAnn R. Rennie, April 5, 2015
Part of the
Easter Day
series, preached at a
Morning Worship
service
About Rev MaryAnn R. Rennie:
MaryAnn was ordained in 1998, and prior to her call to Dunfermline Abbey was minister of Macainsh Parish Church in Lochgelly until 2002, and then St Anne's Parish Church in Corstorphine, Edinburgh from 2002 until 2012. She was inducted as the minister of Dunfermline Abbey in September 2012.
Acts 10:34-43
34Then Peter opened his mouth, and said, Of a truth I perceive that God is no respecter of persons: 35But in every nation he that feareth him, and worketh righteousness, is accepted with him. 36The word which God sent unto the children of Israel, preaching peace by Jesus Christ: (he is Lord of all:) 37That word, I say, ye know, which was published throughout all Judaea, and began from Galilee, after the baptism which John preached; 38How God anointed Jesus of Nazareth with the Holy Ghost and with power: who went about doing good, and healing all that were oppressed of the devil; for God was with him. 39And we are witnesses of all things which he did both in the land of the Jews, and in Jerusalem; whom they slew and hanged on a tree: 40Him God raised up the third day, and shewed him openly; 41Not to all the people, but unto witnesses chosen before of God, even to us, who did eat and drink with him after he rose from the dead. 42And he commanded us to preach unto the people, and to testify that it is he which was ordained of God to be the Judge of quick and dead. 43To him give all the prophets witness, that through his name whosoever believeth in him shall receive remission of sins. (KJV)
Mark 16:1-8
1And when the sabbath was past, Mary Magdalene, and Mary the mother of James, and Salome, had bought sweet spices, that they might come and anoint him. 2And very early in the morning the first day of the week, they came unto the sepulchre at the rising of the sun. 3And they said among themselves, Who shall roll us away the stone from the door of the sepulchre? 4And when they looked, they saw that the stone was rolled away: for it was very great. 5And entering into the sepulchre, they saw a young man sitting on the right side, clothed in a long white garment; and they were affrighted. 6And he saith unto them, Be not affrighted: Ye seek Jesus of Nazareth, which was crucified: he is risen; he is not here: behold the place where they laid him. 7But go your way, tell his disciples and Peter that he goeth before you into Galilee: there shall ye see him, as he said unto you. 8And they went out quickly, and fled from the sepulchre; for they trembled and were amazed: neither said they any thing to any man; for they were afraid. (KJV)