Note that there may be a slight delay to the podcast playing after pressing play while the file buffers.
Do You Understand? (Acts 8:26-40, John 15:1-8)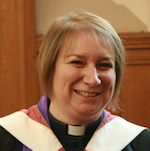 Rev MaryAnn R. Rennie, May 3, 2015
Part of the
Easter
series, preached at a
Morning Worship
service
About Rev MaryAnn R. Rennie:
MaryAnn was ordained in 1998, and prior to her call to Dunfermline Abbey was minister of Macainsh Parish Church in Lochgelly until 2002, and then St Anne's Parish Church in Corstorphine, Edinburgh from 2002 until 2012. She was inducted as the minister of Dunfermline Abbey in September 2012.
Acts 8:26-40
26And the angel of the Lord spake unto Philip, saying, Arise, and go toward the south unto the way that goeth down from Jerusalem unto Gaza, which is desert. 27And he arose and went: and, behold, a man of Ethiopia, an eunuch of great authority under Candace queen of the Ethiopians, who had the charge of all her treasure, and had come to Jerusalem for to worship, 28Was returning, and sitting in his chariot read Esaias the prophet. 29Then the Spirit said unto Philip, Go near, and join thyself to this chariot. 30And Philip ran thither to him, and heard him read the prophet Esaias, and said, Understandest thou what thou readest? 31And he said, How can I, except some man should guide me? And he desired Philip that he would come up and sit with him. 32The place of the scripture which he read was this, He was led as a sheep to the slaughter; and like a lamb dumb before his shearer, so opened he not his mouth: 33In his humiliation his judgment was taken away: and who shall declare his generation? for his life is taken from the earth. 34And the eunuch answered Philip, and said, I pray thee, of whom speaketh the prophet this? of himself, or of some other man? 35Then Philip opened his mouth, and began at the same scripture, and preached unto him Jesus. 36And as they went on their way, they came unto a certain water: and the eunuch said, See, here is water; what doth hinder me to be baptized? 37And Philip said, If thou believest with all thine heart, thou mayest. And he answered and said, I believe that Jesus Christ is the Son of God. 38And he commanded the chariot to stand still: and they went down both into the water, both Philip and the eunuch; and he baptized him. 39And when they were come up out of the water, the Spirit of the Lord caught away Philip, that the eunuch saw him no more: and he went on his way rejoicing. 40But Philip was found at Azotus: and passing through he preached in all the cities, till he came to Caesarea. (KJV)
John 15:1-8
1I am the true vine, and my Father is the husbandman. 2Every branch in me that beareth not fruit he taketh away: and every branch that beareth fruit, he purgeth it, that it may bring forth more fruit. 3Now ye are clean through the word which I have spoken unto you. 4Abide in me, and I in you. As the branch cannot bear fruit of itself, except it abide in the vine; no more can ye, except ye abide in me. 5I am the vine, ye are the branches: He that abideth in me, and I in him, the same bringeth forth much fruit: for without me ye can do nothing. 6If a man abide not in me, he is cast forth as a branch, and is withered; and men gather them, and cast them into the fire, and they are burned. 7If ye abide in me, and my words abide in you, ye shall ask what ye will, and it shall be done unto you. 8Herein is my Father glorified, that ye bear much fruit; so shall ye be my disciples. (KJV)