Note that there may be a slight delay to the podcast playing after pressing play while the file buffers.
The Fear that Inspires Life (Proverbs 1:1-7, Proverbs 3:1-8)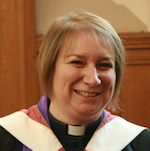 Rev MaryAnn R. Rennie, August 2, 2015
Part of the
Pentecost
series, preached at a
Early Morning Worship
service
About Rev MaryAnn R. Rennie:
MaryAnn was ordained in 1998, and prior to her call to Dunfermline Abbey was minister of Macainsh Parish Church in Lochgelly until 2002, and then St Anne's Parish Church in Corstorphine, Edinburgh from 2002 until 2012. She was inducted as the minister of Dunfermline Abbey in September 2012.
Proverbs 1:1-7
1The proverbs of Solomon the son of David, king of Israel; 2To know wisdom and instruction; to perceive the words of understanding; 3To receive the instruction of wisdom, justice, and judgment, and equity; 4To give subtilty to the simple, to the young man knowledge and discretion. 5A wise man will hear, and will increase learning; and a man of understanding shall attain unto wise counsels: 6To understand a proverb, and the interpretation; the words of the wise, and their dark sayings. 7The fear of the LORD is the beginning of knowledge: but fools despise wisdom and instruction. (KJV)
Proverbs 3:1-8
1My son, forget not my law; but let thine heart keep my commandments: 2For length of days, and long life, and peace, shall they add to thee. 3Let not mercy and truth forsake thee: bind them about thy neck; write them upon the table of thine heart: 4So shalt thou find favour and good understanding in the sight of God and man. 5Trust in the LORD with all thine heart; and lean not unto thine own understanding. 6In all thy ways acknowledge him, and he shall direct thy paths. 7Be not wise in thine own eyes: fear the LORD, and depart from evil. 8It shall be health to thy navel, and marrow to thy bones. (KJV)