Note that there may be a slight delay to the podcast playing after pressing play while the file buffers.
Blind to the World (Jeremiah 31:7-9, Mark 10:46-52)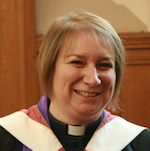 Rev MaryAnn R. Rennie, October 25, 2015
Part of the
Pentecost
series, preached at a
Morning Worship
service
About Rev MaryAnn R. Rennie:
MaryAnn was ordained in 1998, and prior to her call to Dunfermline Abbey was minister of Macainsh Parish Church in Lochgelly until 2002, and then St Anne's Parish Church in Corstorphine, Edinburgh from 2002 until 2012. She was inducted as the minister of Dunfermline Abbey in September 2012.
Jeremiah 31:7-9
7For thus saith the LORD; Sing with gladness for Jacob, and shout among the chief of the nations: publish ye, praise ye, and say, O LORD, save thy people, the remnant of Israel. 8Behold, I will bring them from the north country, and gather them from the coasts of the earth, and with them the blind and the lame, the woman with child and her that travaileth with child together: a great company shall return thither. 9They shall come with weeping, and with supplications will I lead them: I will cause them to walk by the rivers of waters in a straight way, wherein they shall not stumble: for I am a father to Israel, and Ephraim is my firstborn. (KJV)
Mark 10:46-52
46And they came to Jericho: and as he went out of Jericho with his disciples and a great number of people, blind Bartimaeus, the son of Timaeus, sat by the highway side begging. 47And when he heard that it was Jesus of Nazareth, he began to cry out, and say, Jesus, thou Son of David, have mercy on me. 48And many charged him that he should hold his peace: but he cried the more a great deal, Thou Son of David, have mercy on me. 49And Jesus stood still, and commanded him to be called. And they call the blind man, saying unto him, Be of good comfort, rise; he calleth thee. 50And he, casting away his garment, rose, and came to Jesus. 51And Jesus answered and said unto him, What wilt thou that I should do unto thee? The blind man said unto him, Lord, that I might receive my sight. 52And Jesus said unto him, Go thy way; thy faith hath made thee whole. And immediately he received his sight, and followed Jesus in the way. (KJV)