Note that there may be a slight delay to the podcast playing after pressing play while the file buffers.
God's Faithfulness (Mark 13:1-8, Psalm 16:1-20)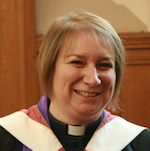 Rev MaryAnn R. Rennie, November 15, 2015
Part of the
Pentecost
series, preached at a
Early Morning Worship
service
About Rev MaryAnn R. Rennie:
MaryAnn was ordained in 1998, and prior to her call to Dunfermline Abbey was minister of Macainsh Parish Church in Lochgelly until 2002, and then St Anne's Parish Church in Corstorphine, Edinburgh from 2002 until 2012. She was inducted as the minister of Dunfermline Abbey in September 2012.
Mark 13:1-8
1And as he went out of the temple, one of his disciples saith unto him, Master, see what manner of stones and what buildings are here! 2And Jesus answering said unto him, Seest thou these great buildings? there shall not be left one stone upon another, that shall not be thrown down. 3And as he sat upon the mount of Olives over against the temple, Peter and James and John and Andrew asked him privately, 4Tell us, when shall these things be? and what shall be the sign when all these things shall be fulfilled? 5And Jesus answering them began to say, Take heed lest any man deceive you: 6For many shall come in my name, saying, I am Christ; and shall deceive many. 7And when ye shall hear of wars and rumours of wars, be ye not troubled: for such things must needs be; but the end shall not be yet. 8For nation shall rise against nation, and kingdom against kingdom: and there shall be earthquakes in divers places, and there shall be famines and troubles: these are the beginnings of sorrows. (KJV)
Psalm 16:1-20
1Preserve me, O God: for in thee do I put my trust. 2O my soul, thou hast said unto the LORD, Thou art my Lord: my goodness extendeth not to thee; 3But to the saints that are in the earth, and to the excellent, in whom is all my delight. 4Their sorrows shall be multiplied that hasten after another god: their drink offerings of blood will I not offer, nor take up their names into my lips. 5The LORD is the portion of mine inheritance and of my cup: thou maintainest my lot. 6The lines are fallen unto me in pleasant places; yea, I have a goodly heritage. 7I will bless the LORD, who hath given me counsel: my reins also instruct me in the night seasons. 8I have set the LORD always before me: because he is at my right hand, I shall not be moved. 9Therefore my heart is glad, and my glory rejoiceth: my flesh also shall rest in hope. 10For thou wilt not leave my soul in hell; neither wilt thou suffer thine Holy One to see corruption. 11Thou wilt shew me the path of life: in thy presence is fulness of joy; at thy right hand there are pleasures for evermore. (KJV)