Note that there may be a slight delay to the podcast playing after pressing play while the file buffers.
Letting go of Power (Daniel 7:9-10, Daniel 7:13-14, John 18:33-37)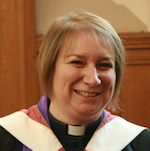 Rev MaryAnn R. Rennie, November 22, 2015
Part of the
Christ the King
series, preached at a
Morning Worship
service
"We're not here to persuade or overpower, but instead to live by love that others may know love, and respond with love to the world that they meet."
About Rev MaryAnn R. Rennie:
MaryAnn was ordained in 1998, and prior to her call to Dunfermline Abbey was minister of Macainsh Parish Church in Lochgelly until 2002, and then St Anne's Parish Church in Corstorphine, Edinburgh from 2002 until 2012. She was inducted as the minister of Dunfermline Abbey in September 2012.
Daniel 7:9-10
9I beheld till the thrones were cast down, and the Ancient of days did sit, whose garment was white as snow, and the hair of his head like the pure wool: his throne was like the fiery flame, and his wheels as burning fire. 10A fiery stream issued and came forth from before him: thousand thousands ministered unto him, and ten thousand times ten thousand stood before him: the judgment was set, and the books were opened. (KJV)
Daniel 7:13-14
13I saw in the night visions, and, behold, one like the Son of man came with the clouds of heaven, and came to the Ancient of days, and they brought him near before him. 14And there was given him dominion, and glory, and a kingdom, that all people, nations, and languages, should serve him: his dominion is an everlasting dominion, which shall not pass away, and his kingdom that which shall not be destroyed. (KJV)
John 18:33-37
33Then Pilate entered into the judgment hall again, and called Jesus, and said unto him, Art thou the King of the Jews? 34Jesus answered him, Sayest thou this thing of thyself, or did others tell it thee of me? 35Pilate answered, Am I a Jew? Thine own nation and the chief priests have delivered thee unto me: what hast thou done? 36Jesus answered, My kingdom is not of this world: if my kingdom were of this world, then would my servants fight, that I should not be delivered to the Jews: but now is my kingdom not from hence. 37Pilate therefore said unto him, Art thou a king then? Jesus answered, Thou sayest that I am a king. To this end was I born, and for this cause came I into the world, that I should bear witness unto the truth. Every one that is of the truth heareth my voice. (KJV)