Note that there may be a slight delay to the podcast playing after pressing play while the file buffers.
Hope Transforming Fear (Jeremiah 33:14-16, Luke 21:25-36)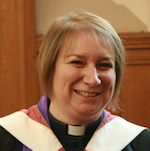 Rev MaryAnn R. Rennie, November 29, 2015
Part of the
Advent
series, preached at a
Morning Worship
service
"At the start of Advent, we live in a world that rumbles with anxiety"
About Rev MaryAnn R. Rennie:
MaryAnn was ordained in 1998, and prior to her call to Dunfermline Abbey was minister of Macainsh Parish Church in Lochgelly until 2002, and then St Anne's Parish Church in Corstorphine, Edinburgh from 2002 until 2012. She was inducted as the minister of Dunfermline Abbey in September 2012.
Jeremiah 33:14-16
14Behold, the days come, saith the LORD, that I will perform that good thing which I have promised unto the house of Israel and to the house of Judah. 15In those days, and at that time, will I cause the Branch of righteousness to grow up unto David; and he shall execute judgment and righteousness in the land. 16In those days shall Judah be saved, and Jerusalem shall dwell safely: and this is the name wherewith she shall be called, The LORD our righteousness. (KJV)
Luke 21:25-36
25And there shall be signs in the sun, and in the moon, and in the stars; and upon the earth distress of nations, with perplexity; the sea and the waves roaring; 26Men's hearts failing them for fear, and for looking after those things which are coming on the earth: for the powers of heaven shall be shaken. 27And then shall they see the Son of man coming in a cloud with power and great glory. 28And when these things begin to come to pass, then look up, and lift up your heads; for your redemption draweth nigh. 29And he spake to them a parable; Behold the fig tree, and all the trees; 30When they now shoot forth, ye see and know of your own selves that summer is now nigh at hand. 31So likewise ye, when ye see these things come to pass, know ye that the kingdom of God is nigh at hand. 32Verily I say unto you, This generation shall not pass away, till all be fulfilled. 33Heaven and earth shall pass away: but my words shall not pass away. 34And take heed to yourselves, lest at any time your hearts be overcharged with surfeiting, and drunkenness, and cares of this life, and so that day come upon you unawares. 35For as a snare shall it come on all them that dwell on the face of the whole earth. 36Watch ye therefore, and pray always, that ye may be accounted worthy to escape all these things that shall come to pass, and to stand before the Son of man. (KJV)