Note that there may be a slight delay to the podcast playing after pressing play while the file buffers.
All Grown Up (Psalm 148:1-100, Luke 2:41-52)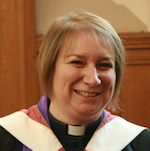 Rev MaryAnn R. Rennie, December 27, 2015
Part of the
Christmas
series, preached at a
Morning Worship
service
The video below is the slide show of the pictures referred to at the end of the sermon
Johnny's Christmas from Dunfermline Abbey on Vimeo.
About Rev MaryAnn R. Rennie:
MaryAnn was ordained in 1998, and prior to her call to Dunfermline Abbey was minister of Macainsh Parish Church in Lochgelly until 2002, and then St Anne's Parish Church in Corstorphine, Edinburgh from 2002 until 2012. She was inducted as the minister of Dunfermline Abbey in September 2012.
Psalm 148:1-100
1Praise ye the LORD. Praise ye the LORD from the heavens: praise him in the heights. 2Praise ye him, all his angels: praise ye him, all his hosts. 3Praise ye him, sun and moon: praise him, all ye stars of light. 4Praise him, ye heavens of heavens, and ye waters that be above the heavens. 5Let them praise the name of the LORD: for he commanded, and they were created. 6He hath also stablished them for ever and ever: he hath made a decree which shall not pass. 7Praise the LORD from the earth, ye dragons, and all deeps: 8Fire, and hail; snow, and vapour; stormy wind fulfilling his word: 9Mountains, and all hills; fruitful trees, and all cedars: 10Beasts, and all cattle; creeping things, and flying fowl: 11Kings of the earth, and all people; princes, and all judges of the earth: 12Both young men, and maidens; old men, and children: 13Let them praise the name of the LORD: for his name alone is excellent; his glory is above the earth and heaven. 14He also exalteth the horn of his people, the praise of all his saints; even of the children of Israel, a people near unto him. Praise ye the LORD. (KJV)
Luke 2:41-52
41Now his parents went to Jerusalem every year at the feast of the passover. 42And when he was twelve years old, they went up to Jerusalem after the custom of the feast. 43And when they had fulfilled the days, as they returned, the child Jesus tarried behind in Jerusalem; and Joseph and his mother knew not of it. 44But they, supposing him to have been in the company, went a day's journey; and they sought him among their kinsfolk and acquaintance. 45And when they found him not, they turned back again to Jerusalem, seeking him. 46And it came to pass, that after three days they found him in the temple, sitting in the midst of the doctors, both hearing them, and asking them questions. 47And all that heard him were astonished at his understanding and answers. 48And when they saw him, they were amazed: and his mother said unto him, Son, why hast thou thus dealt with us? behold, thy father and I have sought thee sorrowing. 49And he said unto them, How is it that ye sought me? wist ye not that I must be about my Father's business? 50And they understood not the saying which he spake unto them. 51And he went down with them, and came to Nazareth, and was subject unto them: but his mother kept all these sayings in her heart. 52And Jesus increased in wisdom and stature, and in favour with God and man. (KJV)