Note that there may be a slight delay to the podcast playing after pressing play while the file buffers.
Ready, Willing and Able (Nehemiah 8:1-10, Luke 4:14-21)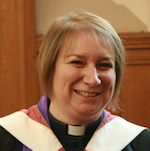 Rev MaryAnn R. Rennie, January 24, 2016
Part of the
Epiphany
series, preached at a
Morning Worship
service
About Rev MaryAnn R. Rennie:
MaryAnn was ordained in 1998, and prior to her call to Dunfermline Abbey was minister of Macainsh Parish Church in Lochgelly until 2002, and then St Anne's Parish Church in Corstorphine, Edinburgh from 2002 until 2012. She was inducted as the minister of Dunfermline Abbey in September 2012.
Nehemiah 8:1-10
1And all the people gathered themselves together as one man into the street that was before the water gate; and they spake unto Ezra the scribe to bring the book of the law of Moses, which the LORD had commanded to Israel. 2And Ezra the priest brought the law before the congregation both of men and women, and all that could hear with understanding, upon the first day of the seventh month. 3And he read therein before the street that was before the water gate from the morning until midday, before the men and the women, and those that could understand; and the ears of all the people were attentive unto the book of the law. 4And Ezra the scribe stood upon a pulpit of wood, which they had made for the purpose; and beside him stood Mattithiah, and Shema, and Anaiah, and Urijah, and Hilkiah, and Maaseiah, on his right hand; and on his left hand, Pedaiah, and Mishael, and Malchiah, and Hashum, and Hashbadana, Zechariah, and Meshullam. 5And Ezra opened the book in the sight of all the people; (for he was above all the people;) and when he opened it, all the people stood up: 6And Ezra blessed the LORD, the great God. And all the people answered, Amen, Amen, with lifting up their hands: and they bowed their heads, and worshipped the LORD with their faces to the ground. 7Also Jeshua, and Bani, and Sherebiah, Jamin, Akkub, Shabbethai, Hodijah, Maaseiah, Kelita, Azariah, Jozabad, Hanan, Pelaiah, and the Levites, caused the people to understand the law: and the people stood in their place. 8So they read in the book in the law of God distinctly, and gave the sense, and caused them to understand the reading. 9And Nehemiah, which is the Tirshatha, and Ezra the priest the scribe, and the Levites that taught the people, said unto all the people, This day is holy unto the LORD your God; mourn not, nor weep. For all the people wept, when they heard the words of the law. 10Then he said unto them, Go your way, eat the fat, and drink the sweet, and send portions unto them for whom nothing is prepared: for this day is holy unto our Lord: neither be ye sorry; for the joy of the LORD is your strength. (KJV)
Luke 4:14-21
14And Jesus returned in the power of the Spirit into Galilee: and there went out a fame of him through all the region round about. 15And he taught in their synagogues, being glorified of all. 16And he came to Nazareth, where he had been brought up: and, as his custom was, he went into the synagogue on the sabbath day, and stood up for to read. 17And there was delivered unto him the book of the prophet Esaias. And when he had opened the book, he found the place where it was written, 18The Spirit of the Lord is upon me, because he hath anointed me to preach the gospel to the poor; he hath sent me to heal the brokenhearted, to preach deliverance to the captives, and recovering of sight to the blind, to set at liberty them that are bruised, 19To preach the acceptable year of the Lord. 20And he closed the book, and he gave it again to the minister, and sat down. And the eyes of all them that were in the synagogue were fastened on him. 21And he began to say unto them, This day is this scripture fulfilled in your ears. (KJV)