Note that there may be a slight delay to the podcast playing after pressing play while the file buffers.
Thoughts on Remembering (Micah 4:1-5, John 15:1-7)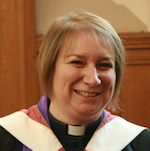 Rev MaryAnn R. Rennie, August 31, 2014
Part of the
Remembrance
series, preached at a
Special
service
On Sunday 31st August The Abbey Church of Dunfermline hosted a special Service to Commemorate the First World War. The moving service included prayer, music, readings, poems and the act of remembrance. The service culminated with the Head Girl and Head Boy from every High School in Fife lighting a candle and walking from the Abbey to the War memorial.
The address given by Rev MaryAnn R. Rennie is linked below.
About Rev MaryAnn R. Rennie:
MaryAnn was ordained in 1998, and prior to her call to Dunfermline Abbey was minister of Macainsh Parish Church in Lochgelly until 2002, and then St Anne's Parish Church in Corstorphine, Edinburgh from 2002 until 2012. She was inducted as the minister of Dunfermline Abbey in September 2012.
Micah 4:1-5
1But in the last days it shall come to pass, that the mountain of the house of the LORD shall be established in the top of the mountains, and it shall be exalted above the hills; and people shall flow unto it. 2And many nations shall come, and say, Come, and let us go up to the mountain of the LORD, and to the house of the God of Jacob; and he will teach us of his ways, and we will walk in his paths: for the law shall go forth of Zion, and the word of the LORD from Jerusalem. 3And he shall judge among many people, and rebuke strong nations afar off; and they shall beat their swords into plowshares, and their spears into pruninghooks: nation shall not lift up a sword against nation, neither shall they learn war any more. 4But they shall sit every man under his vine and under his fig tree; and none shall make them afraid: for the mouth of the LORD of hosts hath spoken it. 5For all people will walk every one in the name of his god, and we will walk in the name of the LORD our God for ever and ever. (KJV)
John 15:1-7
1I am the true vine, and my Father is the husbandman. 2Every branch in me that beareth not fruit he taketh away: and every branch that beareth fruit, he purgeth it, that it may bring forth more fruit. 3Now ye are clean through the word which I have spoken unto you. 4Abide in me, and I in you. As the branch cannot bear fruit of itself, except it abide in the vine; no more can ye, except ye abide in me. 5I am the vine, ye are the branches: He that abideth in me, and I in him, the same bringeth forth much fruit: for without me ye can do nothing. 6If a man abide not in me, he is cast forth as a branch, and is withered; and men gather them, and cast them into the fire, and they are burned. 7If ye abide in me, and my words abide in you, ye shall ask what ye will, and it shall be done unto you. (KJV)