Note that there may be a slight delay to the podcast playing after pressing play while the file buffers.
New Growth and Fresh Water (Isaiah 55:1-9, Luke 13:1-9)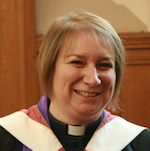 Rev MaryAnn R. Rennie, February 28, 2016
Part of the
Lent
series, preached at a
Morning Worship
service
About Rev MaryAnn R. Rennie:
MaryAnn was ordained in 1998, and prior to her call to Dunfermline Abbey was minister of Macainsh Parish Church in Lochgelly until 2002, and then St Anne's Parish Church in Corstorphine, Edinburgh from 2002 until 2012. She was inducted as the minister of Dunfermline Abbey in September 2012.
Isaiah 55:1-9
1Ho, every one that thirsteth, come ye to the waters, and he that hath no money; come ye, buy, and eat; yea, come, buy wine and milk without money and without price. 2Wherefore do ye spend money for that which is not bread? and your labour for that which satisfieth not? hearken diligently unto me, and eat ye that which is good, and let your soul delight itself in fatness. 3Incline your ear, and come unto me: hear, and your soul shall live; and I will make an everlasting covenant with you, even the sure mercies of David. 4Behold, I have given him for a witness to the people, a leader and commander to the people. 5Behold, thou shalt call a nation that thou knowest not, and nations that knew not thee shall run unto thee because of the LORD thy God, and for the Holy One of Israel; for he hath glorified thee. 6Seek ye the LORD while he may be found, call ye upon him while he is near: 7Let the wicked forsake his way, and the unrighteous man his thoughts: and let him return unto the LORD, and he will have mercy upon him; and to our God, for he will abundantly pardon. 8For my thoughts are not your thoughts, neither are your ways my ways, saith the LORD. 9For as the heavens are higher than the earth, so are my ways higher than your ways, and my thoughts than your thoughts. (KJV)
Luke 13:1-9
1There were present at that season some that told him of the Galilaeans, whose blood Pilate had mingled with their sacrifices. 2And Jesus answering said unto them, Suppose ye that these Galilaeans were sinners above all the Galilaeans, because they suffered such things? 3I tell you, Nay: but, except ye repent, ye shall all likewise perish. 4Or those eighteen, upon whom the tower in Siloam fell, and slew them, think ye that they were sinners above all men that dwelt in Jerusalem? 5I tell you, Nay: but, except ye repent, ye shall all likewise perish. 6He spake also this parable; A certain man had a fig tree planted in his vineyard; and he came and sought fruit thereon, and found none. 7Then said he unto the dresser of his vineyard, Behold, these three years I come seeking fruit on this fig tree, and find none: cut it down; why cumbereth it the ground? 8And he answering said unto him, Lord, let it alone this year also, till I shall dig about it, and dung it: 9And if it bear fruit, well: and if not, then after that thou shalt cut it down. (KJV)