Note that there may be a slight delay to the podcast playing after pressing play while the file buffers.
Unexpected, Extravagant Wastefulness (Isaiah 43:16-21, John 12:1-8)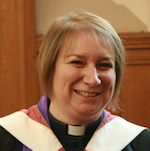 Rev MaryAnn R. Rennie, March 13, 2016
Part of the
Lent
series, preached at a
Communion
service
About Rev MaryAnn R. Rennie:
MaryAnn was ordained in 1998, and prior to her call to Dunfermline Abbey was minister of Macainsh Parish Church in Lochgelly until 2002, and then St Anne's Parish Church in Corstorphine, Edinburgh from 2002 until 2012. She was inducted as the minister of Dunfermline Abbey in September 2012.
Isaiah 43:16-21
16Thus saith the LORD, which maketh a way in the sea, and a path in the mighty waters; 17Which bringeth forth the chariot and horse, the army and the power; they shall lie down together, they shall not rise: they are extinct, they are quenched as tow. 18Remember ye not the former things, neither consider the things of old. 19Behold, I will do a new thing; now it shall spring forth; shall ye not know it? I will even make a way in the wilderness, and rivers in the desert. 20The beast of the field shall honour me, the dragons and the owls: because I give waters in the wilderness, and rivers in the desert, to give drink to my people, my chosen. 21This people have I formed for myself; they shall shew forth my praise. (KJV)
John 12:1-8
1Then Jesus six days before the passover came to Bethany, where Lazarus was which had been dead, whom he raised from the dead. 2There they made him a supper; and Martha served: but Lazarus was one of them that sat at the table with him. 3Then took Mary a pound of ointment of spikenard, very costly, and anointed the feet of Jesus, and wiped his feet with her hair: and the house was filled with the odour of the ointment. 4Then saith one of his disciples, Judas Iscariot, Simon's son, which should betray him, 5Why was not this ointment sold for three hundred pence, and given to the poor? 6This he said, not that he cared for the poor; but because he was a thief, and had the bag, and bare what was put therein. 7Then said Jesus, Let her alone: against the day of my burying hath she kept this. 8For the poor always ye have with you; but me ye have not always. (KJV)