Note that there may be a slight delay to the podcast playing after pressing play while the file buffers.
You are a City on a Hill (Psalm 78:1-7, Colossians 3:12-17, Matthew 5:14-16)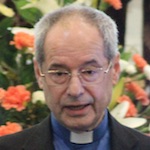 Rev David Redmayne, May 8, 2016
Part of the
Easter
series, preached at a
Morning Worship
service
About Rev David Redmayne:
David Redmayne is the minister of Beath and Cowdenbeath North Church of Scotland. David was ordained on 12 January 2001, at the age of 48, and has been the minister at BCNC since then. He is married to Carol who was a midwife before retiring in 2012.
Psalm 78:1-7
1Give ear, O my people, to my law: incline your ears to the words of my mouth. 2I will open my mouth in a parable: I will utter dark sayings of old: 3Which we have heard and known, and our fathers have told us. 4We will not hide them from their children, shewing to the generation to come the praises of the LORD, and his strength, and his wonderful works that he hath done. 5For he established a testimony in Jacob, and appointed a law in Israel, which he commanded our fathers, that they should make them known to their children: 6That the generation to come might know them, even the children which should be born; who should arise and declare them to their children: 7That they might set their hope in God, and not forget the works of God, but keep his commandments: (KJV)
Colossians 3:12-17
12Put on therefore, as the elect of God, holy and beloved, bowels of mercies, kindness, humbleness of mind, meekness, longsuffering; 13Forbearing one another, and forgiving one another, if any man have a quarrel against any: even as Christ forgave you, so also do ye. 14And above all these things put on charity, which is the bond of perfectness. 15And let the peace of God rule in your hearts, to the which also ye are called in one body; and be ye thankful. 16Let the word of Christ dwell in you richly in all wisdom; teaching and admonishing one another in psalms and hymns and spiritual songs, singing with grace in your hearts to the Lord. 17And whatsoever ye do in word or deed, do all in the name of the Lord Jesus, giving thanks to God and the Father by him. (KJV)
Matthew 5:14-16
14Ye are the light of the world. A city that is set on an hill cannot be hid. 15Neither do men light a candle, and put it under a bushel, but on a candlestick; and it giveth light unto all that are in the house. 16Let your light so shine before men, that they may see your good works, and glorify your Father which is in heaven. (KJV)