Note that there may be a slight delay to the podcast playing after pressing play while the file buffers.
Bursting Through the Fence (Luke 7:36-8:3)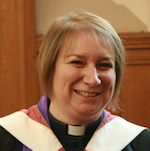 Rev MaryAnn R. Rennie, June 12, 2016
Part of the
Pentecost
series, preached at a
Communion
service
About Rev MaryAnn R. Rennie:
MaryAnn was ordained in 1998, and prior to her call to Dunfermline Abbey was minister of Macainsh Parish Church in Lochgelly until 2002, and then St Anne's Parish Church in Corstorphine, Edinburgh from 2002 until 2012. She was inducted as the minister of Dunfermline Abbey in September 2012.
Luke 7:36-8:3
36And one of the Pharisees desired him that he would eat with him. And he went into the Pharisee's house, and sat down to meat. 37And, behold, a woman in the city, which was a sinner, when she knew that Jesus sat at meat in the Pharisee's house, brought an alabaster box of ointment, 38And stood at his feet behind him weeping, and began to wash his feet with tears, and did wipe them with the hairs of her head, and kissed his feet, and anointed them with the ointment. 39Now when the Pharisee which had bidden him saw it, he spake within himself, saying, This man, if he were a prophet, would have known who and what manner of woman this is that toucheth him: for she is a sinner. 40And Jesus answering said unto him, Simon, I have somewhat to say unto thee. And he saith, Master, say on. 41There was a certain creditor which had two debtors: the one owed five hundred pence, and the other fifty. 42And when they had nothing to pay, he frankly forgave them both. Tell me therefore, which of them will love him most? 43Simon answered and said, I suppose that he, to whom he forgave most. And he said unto him, Thou hast rightly judged. 44And he turned to the woman, and said unto Simon, Seest thou this woman? I entered into thine house, thou gavest me no water for my feet: but she hath washed my feet with tears, and wiped them with the hairs of her head. 45Thou gavest me no kiss: but this woman since the time I came in hath not ceased to kiss my feet. 46My head with oil thou didst not anoint: but this woman hath anointed my feet with ointment. 47Wherefore I say unto thee, Her sins, which are many, are forgiven; for she loved much: but to whom little is forgiven, the same loveth little. 48And he said unto her, Thy sins are forgiven. 49And they that sat at meat with him began to say within themselves, Who is this that forgiveth sins also? 50And he said to the woman, Thy faith hath saved thee; go in peace. 8:1 And it came to pass afterward, that he went throughout every city and village, preaching and shewing the glad tidings of the kingdom of God: and the twelve were with him, 2And certain women, which had been healed of evil spirits and infirmities, Mary called Magdalene, out of whom went seven devils, 3And Joanna the wife of Chuza Herod's steward, and Susanna, and many others, which ministered unto him of their substance. (KJV)