Note that there may be a slight delay to the podcast playing after pressing play while the file buffers.
Seventh Sunday of Easter
()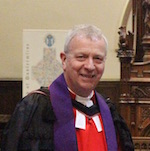 Very Rev John Chalmers, May 13, 2018
Part of the
Easter
series, preached at a
Morning Worship
service
About Very Rev John Chalmers:
Very Reverend John Chalmers was the Moderator of the General Assembly of the Church of Scotland in 2014 Mr Chalmers, a member of Dunfermline Abbey, has spent most of his life supporting the work of Enable; for twenty years he was a member of the Board of Donaldson's, the National School for the Deaf. Mr Chalmers began by studying chemical engineering at Strathclyde University before transferring to Glasgow University to embark on a degree in divinity. During the early eighties he was a minister in Renton Trinity Parish in West Dunbartonshire then from 1986-1995 he was the minister at Palmerston Place Church in the West End of Edinburgh. These contrasting parishes gave him a breadth of understanding of the challenges facing the Church. Mr Chalmers hopes that in his role as Moderator he will be able to encourage people to find faith, friendship and the spirit of Christ in the community of the local Church.