Note that there may be a slight delay to the podcast playing after pressing play while the file buffers.
Worry Not
()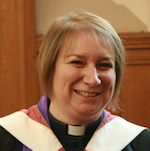 Rev MaryAnn R. Rennie, July 29, 2018
Part of the
Stewardship/Generosity
series, preached at a
Summer Morning Worship
service
About Rev MaryAnn R. Rennie:
MaryAnn was ordained in 1998, and prior to her call to Dunfermline Abbey was minister of Macainsh Parish Church in Lochgelly until 2002, and then St Anne's Parish Church in Corstorphine, Edinburgh from 2002 until 2012. She was inducted as the minister of Dunfermline Abbey in September 2012.