Note that there may be a slight delay to the podcast playing after pressing play while the file buffers.
Malala and Donald Trump
()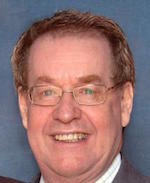 Very Rev Andrew McLellan CBE, February 14, 2016
Part of the
Visiting Preachers
series, preached at a
Morning Worship
service
About Very Rev Andrew McLellan CBE:
Andrew Rankin Cowie McLellan CBE is a minister in the Church of Scotland. He was Her Majesty's Chief Inspector of Prisons for Scotland from 2002 to 2009. He was educated at Kilmarnock Academy, Madras College (St Andrews), the University of St Andrews, the University of Glasgow and Union Theological Seminary, New York City, USA. He was Assistant Minister at St George's West Church, Edinburgh, 1969-1971. Thereafter, he was Minister at Cartsburn Augustine Church, Greenock (1971–1980) (and was also an elected member of Inverclyde District Council 1977-1980), Viewfield Parish Church, Stirling (1980–1986) and St Andrew's and St George's Church, Edinburgh (1986–2002). He was Convener of the Church of Scotland's Church and Nation Committee 1992-1996 and Moderator of the General Assembly of the Church of Scotland in 2000. He is also author of several books. He is married to Irene and has twin sons Andi and Ian. He now lives in Dunfermline.