What we know today as the `Old Church` or Nave` is in fact the only remains of the twelfth century Abbey, dedicated in 1147. The nave of the Old Church stretches eastwards to the entrance to the modern parish church.The side walls of the central area are carded on five massive pillars on the left and six on the right.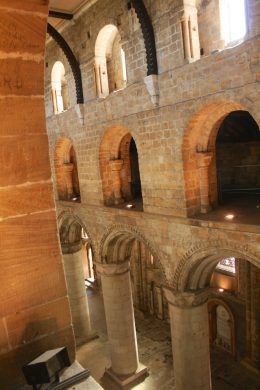 The pillars appear to be unequal in diameter. Recessed into the floor are indicative brass lines showing the outline of the Priory Church of Queen Margaret (St Margaret) and the Culdee (Celtic) church of the 10th century.
From the tops of those pillars rise semicircular arches to support the upper part of the walls. Two of the pillars are incised with a chevron design that creates an optical illusion, the pillars appearing to be unequal in diameter from top to bottom.
Above the stone vaulting that forms the ceiling of the side aisles, a gallery runs the whole length of the building on each side. Those arcades look inwards upon the central area through a second row of semicircular arches, and were known as the triforium. They gave access to the roof timbers of the aisles, provided extra space for the activities of the monks and also brought the whole of the nave under easy surveillance.
Above the triforium is a third row of semicircular archways, opening from the outer air, and providing light and ventilation for the building. This was called the clerestory – or clear storey.