An artist has created a giant painting commemorating the Scottish roots of golf in the USA as part of Ryder Cup celebrations.
Ian Stewart Moir painted the tableau to celebrate the shared history of US golf and his hometown of Dunfermline and features Dunfermline Abbey.
"The only fictionalised aspect is the time frame. I wanted to capture the whole story of Dunfermline's golf legacy which, of course, spanned across hundreds of years."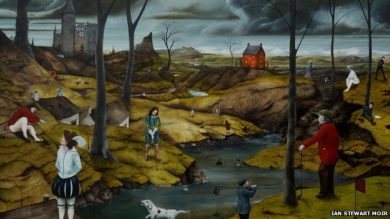 The painting is currently on display at Pitfirrane Golf Club.
The full story can be read on the BBC News Website